Welcome to The Riding Academy's Equestrian Activities Week. The Riding Academy is located in Menifee, Ca. at 30300 Garbani Road. Menifee is less then 5 minutes from Murrieta, Sun City and Hemet. Our Equestrian Activity Week has Daily Horseback Riding, Gymkhana (games on horseback) Daily Horsemanship, Winning Ribbons and More! All the instructors at The Riding Academy are certified in CPR, First Aid and riding instruction. The Riding Academy has been family owned and operated since 1986. With over 35 years experience in the industry we offer quality equestrian programs. The Riding Acacdey's will offer a fun filled week of horses. Our riders will be grooming, saddling and riding. By the end of the week, students that have never ridden before, will impress you with their horsemanship skills. It is wonderful to see our students learn to halter, lead, groom, saddle and ride in one week. Our Equestrian Activity Week is for beginner riders as well as advanced riders. The Riding Academy focus is; first on safety, second is learning and last, but not least, is FUN. As each week fills up, we will be opening additional weeks.

The Riding Academy 951-301-9272 30300 Garbani Rd Menifee, Ca 92584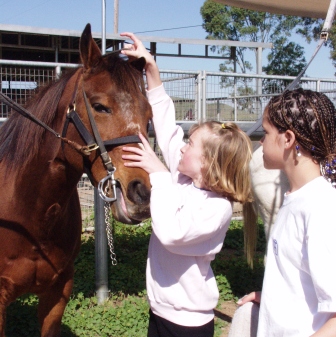 Updated 07/27/2020

Come Join The Fun!!!!

Serving The Community Since 1986

Our Activities Include Daily: Horseback Riding, Morning Feeding of the Horses, Grooming, Saddling, Gymkhana (games on horseback), Win Ribbons and More!

Beginners are Welcome!

FOR BOYS AND GIRLS Ages:

Ages 8-16 years old (We may take kids younger if accompanied by an older sibling or relative.)

2020 Equestrian Activities Week and Information:

Weeks:

~ We are going to start the week of JUNE 22-26, 2020 ~

After, the week of June 22 is booked, we will open up the next week June 29.

June 22nd is BOOKED

June 29th is BOOKED

July 6th is BOOKED

July 13th is BOOKED

July 20 is BOOKED

July 27th BOOKED

August 3rd is BOOKED

August 10th 1 SPOTS OPEN

We will keep opening up new weeks until there is no demand.

Monday through Friday ~ 8 am to 12 noon ~ Cost $200

Payment must be pay in full before the start of the week.

Liability Releases need to be turned in via theridingacademy@hotmail.com before the start of the week.

WHAT TO WEAR

Wear long pants, light color t-shirt and boots. We provide riding helmets.

WHAT TO BRING

Bring carrots (For the horses), snacks, drinks, sun screen and a bottle of water (the kids like it frozen). Please put rider's names on all items. Optional~ gloves, hat, and riding helmet.